Nayaswami Kriyananda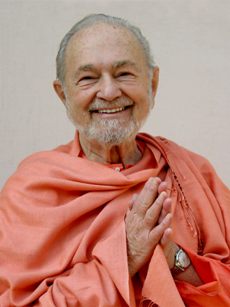 Nayaswami Kriyananda (born James Donald Walters; May 19, 1926 - April 21, 2013)
Born James Donald Walters
Swami Kriyananda (James Donald Walters) was born of American parents in Rumania on May 19, 1926. Since his father worked for Esso Oil in Europe, he lived his childhood abroad, attending boarding schools in Switzerland and England. With the coming of World War II, his family moved back to the United States where he completed high school in Connecticut and New York. He then spent the next three and a half years at Haverford College and at Brown University, where his interests in the spiritual became the primary focus in his life.
Playwright Dock Street Theater
After leaving college, Kriyananda began working as a playwright at the Dock Street Theater in Charleston. It was during this time that Kriyananda became interested in Eastern philosophy, and was inspired by reading first the Hindu classic Bhagavad-Gita Gita and then the Autobiography of a Yogi, by Paramhansa Yogananda. After reading Yogananda's work, Kriyananda felt compelled to come to California in 1948 and meet Yogananda.
Self-Realization Fellowship
Kriyananda was accepted as a "Brother" at the Self-Realization Fellowship (SRF) ashram at Mt. Washington in Los Angeles. He had been with Yogananda only a year when he was put in charge of the men's monastery. A difficult task for a young man of 21, but gradually he won the respect of his seniors and colleagues in the organization. While working with the Master at their desert retreat at Twenty-nine Palms, California. Yogananda asked him to edit his commentary on the Bhagavad-Gita Gita and write articles for their newsletter. He was also asked by the Master to lecture on his behalf, and to give Kriya initiations.
Yogananda's Talk on World Colonies
It was at a garden party on July 31, 1949 that Yogananda gave a talk that changed the course of Kriyananda's life. "This day marks the birth of a new era. My spoken words are registered in the ether, in the Spirit of God... the word has been said, and we must go on not only those who are here, but thousand of youths must go North, South, East, and West to cover the earth with little colonies demonstrating that simplicity of living plus high thinking lead to the greatest happiness and strengthen character. Example talks louder than words. Reform yourself, and you have reformed thousands. So must your lives be ideal examples, and may the Spirit of God bless each of you, that through your example you may free some suffering children of God, your brother and sisters of the world, and bring them back to Him.
Kriyananda wrote afterwards, "I was moved to my core. It would not have surprised me had the heavens opened up and host of angels come streaming out, eyes ablaze, to do his bidding. Deeply, I vowed that day to do my utmost to make his words a reality."
Initiated in Giri Swami Order
On March 7,1952, Paramhansa Yogananda entered mahasamadhi (a yogi's final conscious exit from the body). Kriyananda spent the next few years reorganizing the monks, SRF center department, the churches, and the lay-disciple order. In 1955 James Donald Walters was initiated into the Giri Swami Order and was given the spiritual name Kriyananda. From 1955 to 1958, Kriyananda was the main minister of the Hollywood Church. He was elected to the board of the Self-Realization Fellowship in 1960 and served as Vice-President of Self-Realization Fellowship.
Construction of Ananda
In 1962 Kriyananda separated from SRF and began writing and lecturing on his own in San Francisco. In 1967, the opportunity came. Kriyananda purchased a small piece of land in the Sierra Nevada foothills near Nevada City, California, and by 1968 began construction of Ananda Village. It was during this period that he wrote his first book Crises in Modern Thought: Solutions to the Problem of Meaninglessness.
Ananda Founded
Kriyananda, founded Ananda World Brotherhood Village, located near Nevada City, California. Ananda presently has thriving branch communities in Sacramento and in Palo Alto, California; in Portland, Oregon; in Seattle, Washington; and near Assisi, Italy.
Successful Intentional World Communities
Ananda is recognized as perhaps the most successful intentional community in the world. Today, over 800 people reside in six Ananda communities throughout the world (Nevada City, Seattle, Palo Alto, Portland, Sacramento and Assisi, Italy). The European retreat and community located in Assisi, Italy, also serves Ananda meditation groups in Europe, Croatia, and Russia. Both the Nevada City and Assisi communities have world-renowned guest retreat facilities where thousands of visitors annually visit for Spiritual renewal or instruction in many aspects of meditation, yoga, and the spiritual life. Kriyananda also established "Living Wisdom" schools for grades K-8 in Nevada City, Sacramento, Portland, and Palo Alto.
Books and Music over 3 Million Sold
Kriyananda's books and music have sold over 3 million copies worldwide and been translated into 24 languages. He is the author of more than 100 books on a variety of topics including leadership, education, creativity, and moral values. A composer since 1964, Kriyananda has written over 300 musical works.
The Path, A Spirtual Autobiograpy
His best-selling titles include Meditation for Starters, The Path: A Spiritual Autobiography (which can be read online at http://www.crystalclarity.com/kriyananda), Money Magnetism, The Essence of Self-Realization, Affirmations for Self-Healing, Education for Life, and his best-selling Secrets gift books. (For more information on Kriyananda's books, visit the website of Crystal Clarity, Ananda's publishing arm. http://www.crystalclarity.com
Music Composer
As a composer, Kriyananda is best known for the top-selling albums Mystic Harp and Mystic Harp 2, featuring the legendary harpist Derek Bell, of the 5-time Grammy Award-winning group The Chieftains.
His over eighty published works seminally explore the application of the teachings of Self-Realization to daily life. Topics include leadership, education, creativity, and moral values.
On April 21, 2013 he died in his home in Assisi. His remains were brought back to Ananda Village in May 2013.




©2014 YogaforJoy, 14618 Tyler Foote Road, Nevada City, CA 95959